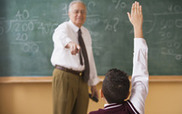 This is a summary of key points made in an article from eSchool News by Laura Devaney.
As states move toward implementing the Common Core State Standards, school principals must ensure they are fully equipped to help classroom teachers incorporate the standards as effectively as possible.
Not our old standards – "Average isn't good enough," said Mel Riddile, associate director for high school services with the National Association of Secondary School Principals and a former high school administrator.
Opportunity brings challenges – "Those of us who have really worked to increase the number of college- and career-ready students, see this as the best opportunity we've had in a long time, and with that opportunity comes challenges."
Major Shift – The Common Core effort is causing a "major shift" in the education conversation, Riddile said, because it will force educators and administrators to measure something different and new.
Second-Order Change – "This is about a second order change—we have to learn new skills, new habits, and new behaviors. We have to unlearn what bad habits we have," he said.
Standards, Classroom, School – School leaders must know what their school's teachers know about the standards, and they must be knowledgeable about what needs to be done in the classroom as well as what must be done on a building level.
Culture Change – "This is a big culture change for schools," Riddile said. School principals will need vision, focus, and a positive mindset as the process continues.
Implementation is the key – "The fidelity of implementation of these standards is going to be the 'make it or break it' issue," Riddile said.
Leaders Grow Leaders – "We'll have to collaborate [and] share leadership throughout the school; leaders are going to have to grow more leaders … and build the collective capacity of our staff."
See on www.eschoolnews.com