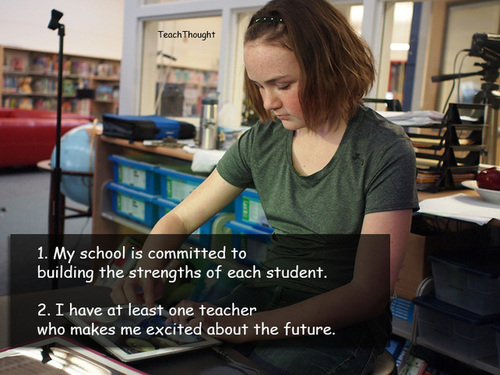 2 Student Beliefs That Can Change Everything
by Grant Wiggins
A recent Gallup Poll revealed that "among the 600,000 students who took the poll in 2013, those who strongly agreed with two simple statements were 30 times as likely as those who strongly disagreed with both to be emotionally engaged at school. Those two statements were:
1. My school is committed to building the strengths of each student.
2. I have at least one teacher who makes me excited about the future."
Mel Riddile's insight:
Key points for school leaders:
Student engagement correlates highly with achievement!

A one-percentage-point increase in a school's student engagement was associated with a six-point increase in reading achievement and an eight-point increase in math achievement scores.

Schools in which students were in the top quartile of average engagement results were 50% more likely to be above average in statewide reading achievement scores than schools in which students were in the bottom quartile of Gallup's engagement database.

"The more you can do your work and gain helpful feedback on your work the more engaged you will be."

"

"Motivation is at its highest when students are competent, have sufficient autonomy, set worthwhile goals, get feedback, and are affirmed by others." – John Hattie, Visible Learning

"eight in 10 students who strongly agree that their school is committed to building the strengths of each student are engaged in school."

"

the only hope for significant advancement of engagement and thus performance is to spend each day in a joyful, focused, and collaborative school."
The Bottom Line
"
there are fundamental strategies schools can focus on to dramatically raise the likelihood that students will be emotionally engaged in the classroom on any given day."
Wiggins asks, "

Instructional leaders, do you

get

this? Or is a lack of imagination and leadership causing you to passively accept a culture of impersonal "coverage" and test-prep paranoia instead of a culture devoted to engaged learning at worthy and personalized work?
See on www.teachthought.com